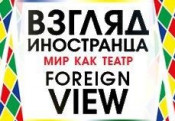 Share content in social networks:
"Foreign View" Anniversary Multimedia Contest is taking place in the Presidential Library
27 June 2019 – 14 January 2020
Marking the 10th anniversary, the Presidential Library invites anyone to take part in the X "Foreign View" International Annual Multimedia Contest. The photographs and video works are accepted on June 27, 2019. Detailed information about the project, as well as a form for registering and submitting contest works is available on foreignview.prlib.ru.

This time the "Foreign View" Contest is dedicated to the Year of Theater in Russia which motto is "World as a Theater". The task of each participant in the contest is not only to fulfill all the conditions, but also to show creative skills. Each work should become a kind of stage on which the author, like theater director and playwright, will demonstrate his vision of the world around us and will tell his own story.

The nomination "National Theaters" is dedicated to those who faithfully keep the long-term traditions of their unique stage.

The nomination "All Life is Theater" aims to show the reality surrounding us in our works.

Street actors, musicians and even stuntmen will become the protagonists of the Carnival theme.

The "Heroes of Backstage" nomination will illustrate stage workers who the viewer never sees, but they create the unique atmosphere of the performance.

Photographs and video works about those who are just starting their career will be included in "I am an actor!" nomination.

Professional theater photographers and cameramen are invited to participate in the contest in the "Masters about the Masters" nomination. "Mobile photo" nomination is presented to those who were lucky to make an unusual, interesting photograph on their gadget. Photographs and video works can be uploaded with the hashtag #foreignview2019 to Instagram. The winner will be determined by popular vote.

By tradition, "Foreign View" Contest includes a separate - geographical - nomination. This year, it is entitled "Belarus through the eyes of Russians, Russia through the eyes of Belarusians" and is dedicated to the joint historical and cultural history of the two fraternal Slavic peoples. Entries in all nominations of the X "Foreign View" International Annual Multimedia Contest will be accepted until January 14, 2020. The winners will be awarded in February 2020.

The project participants will not only contest for the victory, but will also have the opportunity to become part of the global community, which annually creates for the future generations a digital chronicle of the most significant events of our time. The best photographs will be included in the photo album, which along with the best video works will enter the electronic collections of the Presidential Library. The materials sent to the multimedia contest will become part of exhibitions at various cultural sites of our country.
Academic Theater "On Mokhovaya street" and "Grand Canyon" Development Territory are the partners of the Foreign View Photo Contest.