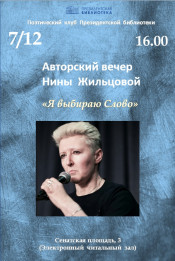 Share content in social networks:
The Presidential Library's Poetry Club to hold a creative event
The next meeting of the Presidential Library's Poetry Club (Senate Square, 3) will be held on December 7, 2019 at 16:00.
The event participants will sum up the results of the first year of the club's work, consider plans for the future, and study materials entitled "Literary and music salons of St. Petersburg". Excerpts from old periodicals, memoirs and letters stored in the electronic collections of the Presidential Library will illustrate the cultural life of past centuries.
The second part of the event will present the author's evening by permanent member of the St. Petersburg Poetry Club, member of the Russian Union of Writers Nina Zhiltsova "I Choose the Word". She is twice a finalist of the Poetry Club contests: "I Will Call For Any of the Centuries" and "Dedication to Anna", and she also has publications in literary almanacs and online publications (a collection of Russian poetry "Lirikon", "45th Parallel", and others). New poems and works from poetic cycles such as "Historical miniatures", "Persons from the album" will be performed.
More information about the upcoming meeting is available on the official page of the Poetry Club of the Presidential Library on VKontakte social network.
The accreditation for media representatives is until 12:00 December 6, 2019.
Please forward applications for accreditation following the attached form with the note "Media accreditation" to email addresses: media@prlib.ru, hudjakova@prlib.ru  Alexandra Khudyakova, tel.: (812) 305-16-21, ext. 167; mob. +7 (981) 788-28-08.
The letter should contain the name, date and place of birth, passport data (series, number, place of registration), a list of carry-on equipment, contact numbers, the name of the media.
Please note that the access to the Presidential Library is only possible by prior registration and upon showing a passport: participants and guests of the event go through entrance № 1, media representatives go through entrance № 2.