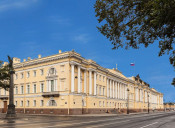 Share content in social networks:
The Presidential Library's opening times
From September 12, 2020, the Presidential Library will resume its regular work.
Opening times of the electronic reading room:
Monday - Saturday: from 11:00 to 19:00 (entrance to the building is until 18:00).
Sunday - day off.
Information about visiting the electronic reading room is available by phone (812) 305-16-31, e-mail: reference@prlib.ru.
Exhibition halls opening times:
Monday - Thursday: 09:00 to 18:00.
Friday: 09:00 to 16:45.
Saturday: 09:00 to 18:00.
Sunday - day off.
To obtain information on the organization of excursions around the building and exhibitions of the Presidential Library, please call (812) 334-25-14, e-mail: excursion@prlib.ru.
By recommendations of the Federal Service for Surveillance on Consumer Rights Protection and Human Wellbeing, the library carries out temperature control at the entrance. Visitors must use personal protective equipment and keep social distance.
We remind you that you must have an identification document with you (a passport).
Please note that the information about the resources of the Presidential Library is presented on the institution's portal www.prlib.ru, президентская-библиотека.рф and the official pages of the institution on social networks Facebook, VKontakte and Instagram, as well as the official pages of the Tyumen branch of the Presidential Library VKontakte and Instagram.