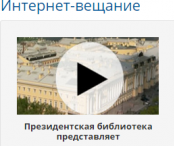 Share content in social networks:
Documentary films and historical video lectures available on the Presidential Library's portal
28 December 2020 – 1 January 2021
The Presidential Library's portal from Monday to Friday in Live broadcasts section provides broadcasting of films, video lectures and tours prepared by the Presidential Library, as well as by leading film studios of the country.
In accordance with the broadcast program, in the week of December 28, thanks to the showing of the film "Senate Square, 3", users will be able to visit St. Petersburg in the historical building of the Holy Synod, designed by the outstanding architect Karl Rossi, without leaving their homes. The filmmakers paid special attention to both the history of the building that now houses the Presidential Library, and the history of the Holy Synod, the church authority established under Peter I.
Three video lectures "Russian icon in the collection of the Novgorod Museum-Reserve" will be shown at once on the Presidential Library's portal. This is a great opportunity to learn about the outstanding and most interesting monuments from the collection of ancient Russian painting, numbering one and a half thousand icons of the mid-11th - early 20th centuries.
January 1, 2021 marks 102 years since the birth of Daniil Alexandrovich Granin, Soviet and Russian writer, public figure, participant of the Great Patriotic War, honorary citizen of St. Petersburg. The writer had a long-term creative relationship with the Presidential Library; their result was, in particular, the creation of a documentary film "Daniil Granin", which will be shown on the institution's portal. Outstanding writer, recalling the past, reflects on the future of culture, art and society in the film.
The schedule of broadcasts of films and video lectures for the coming week is available on the Presidential Library's portal in Live broadcasts section.
We are always glad to see you on our portal!