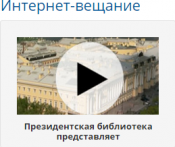 Share content in social networks:
Ancient frescoes and space flights presented in films on the Presidential Library's portal
The Presidential Library's portal from Monday to Friday in Live broadcasts section provides broadcasting of films, video lectures and tours prepared by the Presidential Library, as well as by leading film studios of the country.
Thus, in accordance with the broadcasting program, during the week from June 14-18, thanks to the screening of the documentary "ECCE HOMO. Behold the Man", each user will have opportunity to learn about little-known facts about the life of Saint Righteous John of Kronstadt - a preacher, church and public figure of the late XIX - early XX century, revered in Russia and abroad.
The film "Cosmonautics in the USSR" will help to move to the era of the beginning of space exploration. The film includes historical newsreel footage, which captures famous Soviet cosmonauts: Yuri Gagarin, Valentina Tereshkova, Alexei Leonov and others.
Without leaving home one has opportunity to visit Vologda Region and the ancient Cathedral of the Nativity of the Virgin of the Ferapontov Monastery, which is famous for the frescoes of the main icon painter of the 15th-16th centuries, Dionysius, the successor of the traditions of Andrei Rublev. This is the only original author's painting that has survived in our country. The discovery of fresco painting in the Ferapontov Cathedral at the end of the 19th century became a unique phenomenon, restoration work continues to this day. The monastery was included in the World Heritage List by the UNESCO session.
Video lecture "Alexander Pushkin: Serving the Fatherland", which will be broadcast on the Presidential Library's portal, will tell how the poet's and writer's worldview was reflected in his works.
On the eve of the 80th anniversary of the beginning of the Great Patriotic War, the webinar "June 22 - Day of Remembrance and Sorrow" will be shown on the Presidential Library's portal. It will provide an overview of materials from the Presidential Library's collections. They are historical research, periodicals, archival documents, poetry texts and songs, as well as visual materials - maps, postcards and photographs dedicated to the Great Patriotic War. Particular attention at the webinar is paid to materials about the defence and siege of Leningrad.
The schedule of broadcasts of films and video lectures for the coming week is available on the Presidential Library's portal in Live broadcasts section.
We are always glad to see you on our portal!