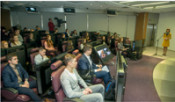 Share content in social networks:
School students will learn in the Presidential Library the basics of the lawful legislation in Russia
A new cycle of multimedia lessons for high and vocational schools and gymnasium students will run in the Presidential Library since March 1, 2017. It is focused on the monument of ancient Russian legislation – Russkaya Pravda (Russian Justice) legal code of Kievan Rus. Classes will last until June 9, 2017.
As part of a multimedia lesson students will see a tutorial film with leading Russian historians participated in the shooting of which. The learners will find out about the situation of the emergence of the Russian Justice, its main editions, legal content, and a meaning for the history.
For modern researcher the Russian Justice is a complex in its composition and the content legislative monument. The norms of the Code apply to all major areas of law: civil, criminal, administrative, family, procedural. Lesson's participants will be asked to relate some of the articles of the Russian Justice with the modern rule of law, to consider how today could be resolved the life situations of the Old Russian state. Analysis of the document itself will enable students to understand the features of the proceedings of ancient Russia. The text of the Russian Justice can be found either on the Presidential Library website or in the electronic reading room, where the research works on the history of creation of the legal code and other materials about the ancient Russian law are available.
During "The "Russian Justice" – a law of Ancient Rus" multimedia tutorial students will also get acquainted with other sources of the Presidential Library digital stock, among which a special place belongs to rare editions: a work of V. N. Tatischev containing the first mention of the Russian Justice and the first publication of this ancient Russian legal code in 1767. At the end of class an electronic test, in which students can check their knowledge and confirm studied, will be offered.
Multimedia lessons have become a tradition in the Presidential Library. In previous years, the lessons dedicated to the 20th anniversary of the Russian Constitution, the Year of Literature in Russia, the 190th anniversary of the uprising of the Decembrists, as well as the electoral law and the state symbols of Russia, were held for the students of St. Petersburg and Leningrad Oblast. About 15 thousand students have attended these lessons.
The lessons are free. The lesson's length is 1 hour. The students of any educational institutions of St. Petersburg and Leningrad Oblast can attend the lessons. Please, let us know, if you would like to attend the lessons, by pre-registering over the phone (812) 305 1651 or email: cep@prlib.ru.