Nikolay Karamzin (1766–1826)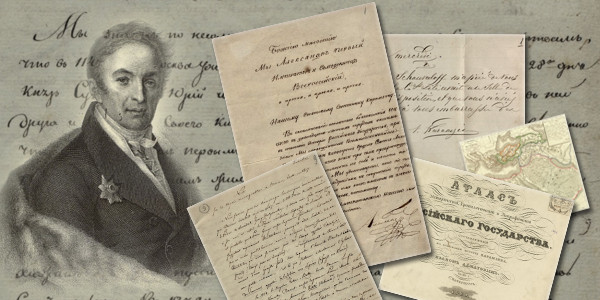 The collection is dedicated to the 250th birth anniversary of the famous Russian historian, writer, publicist Nikolay Karamzin. It includes research, essays and historical documents about the life and work of Karamzin, his own works on the history of the Russian state, as well as individual letters.
Life and work of Nikolay Karamzin covered many areas of life. He went down in history as a reformer of the Russian language as he was the first who used the letter "yo" and enriched the language with a large number of neologisms. Literary creativity of Karamzin gave rise to a new trend - sentimentalism, the foundations of which he claimed in his critical articles.
Publishing activity of Nikolay Karamzin is also remarkable. He was the editor of "Moscow Journal", "The Messenger of Europe", published the first Russian anthologies - "Aglaia" and "Aonide". In his political articles the publisher submited recommendations to the government, pointing to the role of education in society.
The basis of the identity of Russian culture Nikolay Karamzin saw in the study of history. In 1804, in the position of court historian, he initiated the establishment of the "History of the Russian State", on which he worked until the end of days. It included eight "History" volumes in the first edition of the 1816-1817 period. In 1821, as part of the second edition of the works, it was released the 9th volume on the reign of Ivan the Terrible, in 1824 - the 10th and the 11th, about FedorIoannovich and Boris Godunov. The work on the 12th volume has not been completed.
It total the collection includes 134 units.
To prepare the collection were used materials from the collections of the Russian State Historical Archive, the State Archive of the Russian Federation, the Russian State Library, the N. K. Krupskaya Moscow Regional State Scientific Library, the State Public Historical Library, the M. Gorky Scientific Library, the St. Petersburg State University, the Central Naval Library, the Herzen Russian State Pedagogical University Fundamental Library, the Sverdlovsk Regional Library for Children and Youth, the Tula Regional Universal Scientific Library, the Vladimir Regional Universal Scientific Library, the Pushkin Tambov Regional Universal Scientific Library, the Russian Federal Service Protection, the Children's Museum of postcards.
Share content in social networks: