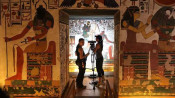 Share content in social networks:
IT and Culture: A virtual tour inside Queen Nefertari's tomb is now available
Experius VR team jointly with Curiosity Stream unveiled a new project Nefertari: Journey to Eternity – a virtual tour to the tomb of one of Egypt's most beloved queens in an effort to preserve and protect its archaeological significance for generations to come. Despite being looted in ancient times, artwork found along the walls of Queen Nefertari's tomb in the Valley of the Queens remains so intact and well-preserved that it's been nicknamed "The Sistine Chapel of Egypt.
Queen Nefertari was the favorite wife of Pharaoh Ramses II, who ruled from 1279 to 1213 BCE. She was highly-revered for her intellectual and diplomatic contributions to Ancient Egypt.
The technology utilizes a technique called photogrammetry typically used in video games. Photogrammetry requires thousands of photos and scans to create more realistic 3D models, Experius explains. The virtual tour features vivid paintings of the guardians of the underworld and countless hieroglyphs and the ancient gods. The simulation takes viewers through the large tomb spread over seven rooms, and down a long stairway leading underground to the main sarcophagus chamber. Interactive features and virtual tours allow users to see artwork first-hand while providing historical background and context, including guides through the tomb's history, art, construction, and mythology.
"Digital preservation of the world's cultural heritage sites is becoming more and more important," co-founder Elliott Mizroch told IFLScience. "Many of these sites are at risk of natural disaster, deterioration, and overexposure to tourism. These models ensure that future generations get to experience these sacred places and not forget the important history lessons behind them". Mizroch also mentions that the program is not just for those interested in Egyptology, but will also help scientists spend more time researching from the convenience of their home, and will "no doubt lead to future discoveries".