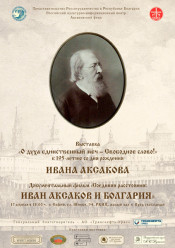 Share content in social networks:
Memory of Russia Abroad: Exhibition dedicated to 195th anniversary of Ivan Aksakov's birth presented in Bulgaria
The Russian Cultural and Information Center in Sofia (the Republic of Bulgaria) presents an exhibition, which covered 5 regions of Russia in 2018. It is dedicated to 195th anniversary of the birth of Ivan Aksakov - prominent public figure of the 19th century, chairman of the Moscow Slavic Committee during the national liberation movement in the Balkans.
The exhibition showcases images, archival documents and materials, which demonstrate Ivan Aksakov's great contribution towards the public life of Russia and the Balkans.