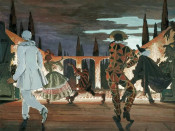 Share content in social networks:
Year of Theatre in Russia 2019: "Artists of Russian Theatre" exhibition staged in Magadan
The exhibition "Artists of Russian Theatre" will be open until December 31, 2019 at the Pushkin Magadan Regional Research Library.
The exhibition primarily consists of albums, catalogues of works of Russian artists, who are the pride of Russian scenography. On display are sketches of costumes, colourful bills, scenographic masterpieces from the albums of Léon Bakst, Alexander Golovin, Nicholas Roerich, Boris Messerer, Alexandra Exter and other artists.