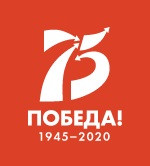 Share content in social networks:
Internet and Society: The website of the President of Russia updated on the eve of the 75th anniversary of the Great Victory
A new logo appeared on the main page of the official website of the President of Russia. It provides access to a thematic portal marking the 75th anniversary of Victory in the Great Patriotic War.
The website features materials on the Great Patriotic War key events, rare military newsreel, famous war songs, and newscaster Yuri Levitan recordings.
The "Parades" separate tab includes a countdown to the main military parade, which will be held on the Red Square on May 9.