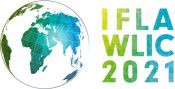 Share content in social networks:
Libraries and Society: Registration of participants of the IFLA World Library and Information Congress 2021 opened online
The International Federation of Library Associations and Institutions (IFLA) announced the opening of registration for the World Library and Information Congress, which will be held on August 17-19. This year, it will be online for the first time. Gerald Leitner, the IFLA Secretary General, also announced the launch of the first IFLA WLIC 2021 Conference Platform. The platform provides the registration for the upcoming Congress, subscription to the Congress Newsletter and comprehensive information about the program during its working days.
The Congress theme for WLIC 2021 is - Let's work together for the future: find, discuss, represent, inspire, solve. It reflects and furthers the presidential theme of IFLA President Christine Mackenzie - Let's work together – and builds upon a key finding from IFLA's Global Vision project that we are united globally in our goals and values and we must connect global and local actions effectively. Five sub-themes are proposed stimuli to the discussion: Libraries Enable, Libraries Inspire, Libraries Include, Libraries Innovate, Libraries Sustain.