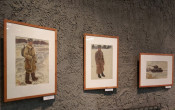 History of St. Petersburg: The exhibition "Former Glory of Past Years", dedicated to the history of the siege of the city, presented in Leningrad Region
On January days, the exhibition hall of the "Breakthrough of the Siege of Leningrad" Museum-Reserve traditionally introduces visitors to the art collection on the main theme of the museum.
The exhibition "Holy Memory of Past Days" is dedicated to two significant dates at once - the 79th anniversary of the breaking of the siege of Leningrad and the 78th anniversary of the complete liberation of Leningrad from the Nazi siege.
The exhibition runs until February 18, 2022.