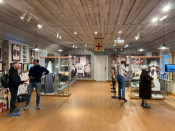 Museums of Russia: Museum dedicated to the activities of the Russian Red Cross Society opened in the Ilyinskoye-Usovo estate near Moscow
The activities of the Imperial Russian Red Cross Society are reflected in the museum, opened in the Ilyinskoye-Usovo Manor Complex near Moscow in Krasnogorsk, in the historic estate of the Romanovs - Grand Prince Sergei and his wife Elizaveta Feodorovna. This building housed an infirmary for the wounded and crippled soldiers of the Russo-Japanese War, equipped by Grand Duchess Elizabeth Feodorovna in 1905.
The museum has become a new display facility for the Imperial Historical Route federal historical and cultural tourism project, which has been implemented in Moscow Region since 2019.
The first in Russia Museum of Motherhood and Infancy (in Ilyinsky) and the Museum of School and Childhood (in Usovo) will be created in these buildings.