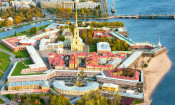 IT and history: Virtual encyclopedia about the fortresses of the era of Peter I developed
The Smolensk Fortress State Museum supported by the Ministry of Culture of Russia has developed a virtual encyclopedia containing information about 16 preserved and lost fortresses from the era of Peter I. In total, the project, dedicated to the 350th anniversary of the birth of the Russian emperor, will include about 30 objects including the Tavrovskaya and St. Petersburg fortresses, the fortifications of Veliky Novgorod, Azov and Kronstadt.
The drawings of the fortresses were taken, among other things, from one of the best publications on the history of fortification - a monograph by General Fyodor Laskovsky in the middle of the 19th century. About half of the objects included in the encyclopedia have already been lost, the rest have been preserved fragmentarily or almost completely.
It is planned that the encyclopedia will include information about 30 fortresses. The project was developed with the support of the Ministry of Culture of Russia and with the participation of museums in Russia and Belarus, including the Museum Agency of Leningrad Region, the Novgorod Museum-Reserve and the Grodno State Historical and Archaeological Museum, dozens of other museums and the Peter the Great Institute.