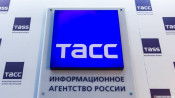 Internet and Society: TASS Information Agency launched the updated version of the website
TASS Information Agency of Russia has updated its main website tass.ru. The platform now features the new format of news consumption with the materials' delivery familiar to messengers' users. The video channel has also been launched, it will demonstrate videos 24/7 on a loop.
The new website of the agency has been created by the TASS specialist only, without the help of third-party workers. A big team of different departments has worked on the project – digital technology department, product management department, information technology department, sales department, editorial office of the tass.ru website, and others. In addition, the universal platform for the digital content management has been created for the new website. It will significantly lighten the work of editors, who will quickly and flexibly manage the content of the pages of tass.ru.
The tass.ru website is the main digital product of TASS and one of the biggest online media platforms in Russia. In 2021, it was visited by over 267 million users. Over 34 million people visit the website every month. Tass.ru publishes relevant news and other content, corresponding with the trends of modern media consumption, including special projects that won many various international and Russian contests, as well as podcasts, infographics and other topical materials.