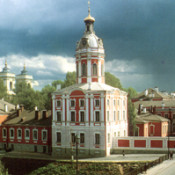 Share content in social networks:
Society and Church: Revival of Orthodox Rus' national culture traditions
The charitable exhibition of applied art commemorating the upcoming Christmas opened today in the metropolitan wing of Alexander Nevsky Lavra. Its mission is to revive traditions of the national culture of the Orthodox Rus.
As usually the cards, paintings, Christmas tree decorations, embroidery, ceramics, woodwork etc. were very popular among the visitors.
The Christmas exhibition firstly took place 6 years ago and since then has managed to become a success both among the residents of St. – Petersburg and its regions, and guests of the city. Already on the first day of the exhibition the guests left their impressions in the comments book.
Over 70 participants, among them Sunday and comprehensive schools, centers, communities, creative groups, brotherhoods and sisterhoods displayed their exhibition stands. Every day at the exhibition the priests, students of Theological Academy, theological and pedagogical courses will answer all the questions of the visitors.
"The main value of our holiday function is the fact that it has become the universal form of recognition of our national cultural values", – considers the Head of the Organizing Committee of the exhibition, the Chairman of the department of St. – Petersburg eparchy of the Russian Orthodox Church on education the archpriest Alexander Zelenenko.