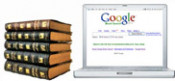 Share content in social networks:
Digital libraries: Google begins books digitization in French Library
On Monday, Dec. 21 Internet search giant Google began digitizing half a million books from the Municipal Library of Lyon, France.
Patrick Bazin, director of the Municipal Library of Lyon, said Google is contracted to scan the books in the library within 10 years.
French President Nicolas Sarkozy said its government would spend 750 million euros to digitally scan the content of its museums, libraries and cinematographic heritage via a public-private partnership.
The Lyon library - whose books are municipal, not national properties - made a call for offers for the digitization project in 2006, only Google offered "an excellent solution."
The antique books include a 16th-century edition of predictions by Nostradamus and Isaac Newton's 17th-century scientific treatise "Principia."
Under the contract, the Lyon Library will use the digital images of its books for its own purposes but notably cedes to Google the right to exploit them commercially for 25 years. Google in return scans the books for free.