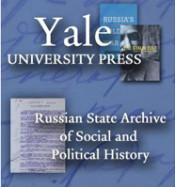 Share content in social networks:
Electronic resources: Yale University Press unveils Stalin Digital Archive
Stalin's personal papers, more than 28,000 documents in all, are part of a Web-based initiative undertaken by Yale University Press in collaboration with the Russian State Archive of Social and Political History - Stalin Digital Archive (SDA). It showcased the SDA, which was launched with a grant from the Andrew W. Mellon Foundation nearly three years ago, at the 43rd annual conference "Association for Slavic, East European and Eurasian Studies" (ASEEES) in Washington DC last week.
In addition to bringing together Stalin's letters, including wartime correspondence with President Franklin D. Roosevelt, and hundreds of books from his personal library with his margin notes, the SDA contains digitized transcriptions of the 25 volumes in the press's Annals of Communism series. "Most of this content has never been seen digitally or in print," says Yale director of digital publishing David Schiffman.
While Yale will translate some of the documents from Russian, Schiffman envisions crowd-sourcing additional translations.
Yale University Press is currently beta testing the website. The press plans to sell access to the archives and its 404,000 pages of writings to libraries.