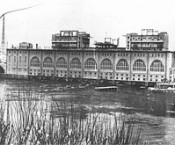 Anniversary of the grand opening of the V. I. Lenin Volkhov hydroelectric plant
December 19, 1926 with the participation of members of the Soviet government was inaugurated Volkhov hydroelectric plant n. a. V. I. Lenin - the oldest operating hydroelectric plant of Russia.
The first draft of using Volkhov River to generate electricity was prepared by Russian engineer Henry Osipovich Graftio back in 1902. 12 years later, he upgraded it with more powerful turbines. In 1918 Graftio managed to awake Lenin's interest in his project, and at the same time, work on the construction of the station began. However, with the beginning of the Civil War in Russia, the construction was suspended.
In September, 1921 by decision of the Council of Labor and Defense, the construction of the hydroelectric plant was included in the plan of the State Commission for Electrification of Russia. In the same year the construction of the plant was restored. At the 4th session of the Central Executive Committee of the RSFSR of the 8th convocation, regarding the report of Graftio a resolution was adopted. It stated that the urgent construction of the Volkhov hydroelectric plant would fundamentally solve the fuel crisis and the power supply for Petrograd and its industry.
Work on construction of the Volkhov hydroelectric plant lasted for 5 years and was completed by the summer of 1926, when was opened a through navigation along the Volkhov River via the lock of the plant. December 19, the opening day of the plant, the first three hydroelectric generators were launched. Originally, the power of the plant was 58 megawatts (MW); increasing gradually, it reached 66 MW by the beginning of the Great Patriotic War.
In late 1941, when German troops approached the hydroelectric plant, its equipment was dismantled and taken out. In autumn 1942, after the stabilization of the front, the plant re-assembled a piece of equipment - three hydroelectric generators of 8 MW each. From the Volkhov hydroelectric plant along the bottom of Lake Ladoga was laid the electric cable which supplied electricity to the besieged Leningrad. In 1945 the plant was completely restored. In 1966, for the success in realization of the seven-year plan, employees of the Volkhov hydroelectric plant n. a. V. I. Lenin was awarded with the Order of the Red Banner of Labor.
In 1993-1996 three generating units of Volkhov plant were replaced with more powerful ones. Currently, the Volkhov hydroelectric plant n. a. V. I. Lenin is a historical monument of the Soviet science and technology. It is a low-pressure hydroelectric plant and an important power center, which provides a reliable power supply to the consumers of the Leningrad Oblast.
Lit.: Первая советская гидроэлектростанция [Электронный ресурс] // Чемодан. 2016-2018. URL: https://chemodanus.ru/stories/pervaya-sovetskaya-gidroelektrostanciya/; Крюков А. М. Тревожные дни Волховской ГЭС // Пути и тревоги. Петрозаводск, 1979; То же [Электронный ресурс].URL: http://militera.lib.ru/memo/russian/krukov_am/05.html.
Based on the Presidential Library's materials:
Материалы для описания русских рек и истории улучшения их судоходных условий. Вып. 42: Финансово-коммерческая сторона проекта шлюзования и использования энергии Волховских порогов. СПб., 1912;
Anniversary of the Dnieper Hydroelectric station Grand opening // On this day. 10 October 1932.