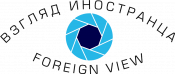 Share content in social networks:
Multifacetedness of the volunteer movement will be reflected by the Presidential Library Multimedia Contest
In 2018, the Presidential Library invites you to participate in the International Annual Multimedia Contest "Foreign View". The acceptance of photo and video works begins on April 27 and will last until January 14, 2019. Detailed information about the project is available on the website foreignview.prlib.ru.
The IX Presidential Library Multimedia Contest "Foreign view" is dedicated to the Year of the Volunteer in Russia and is held under the motto "Freedom to Support".
There are practically no limits to volunteering, everyone can find their own business and spend time and energy for the benefit of society. The same nomination "Freedom to Support" will tell about people who do good for themselves: they help the needy, search for the missing, take care of animals and much more. Photo portraits, photo reports and video works dedicated to volunteers are accepted for the contest.
The nomination "The World Without Borders" is intended to tell about the activities of various organizations aimed at creating an accessible environment for people with disabilities, and the "Let's Save the World" nomination will combine photo and video work that demonstrate human concern for the environment, show the role and place of people in conservation of biodiversity and ecological balance.
To participate in the "History of the Volunteer Movement" nomination, materials from personal archives are dedicated to sisters of mercy, participants of the Timur movement, donors, volunteers at the "construction sites of the century", for example, the construction of the Baikal-Amur Mainline.
The special nomination "The Ball of Victory", timed to the 2018 FIFA World Cup in Russia is being continued. The photos and videos of famous football commentators, players, bright moments of matches and much more on football topics are accepted to participate. You can also send photos and videos taken during the preparation and holding of the 2018 World Cup and other football competitions, reflecting the development of the infrastructure of Russian cities. Photos and videos showing amateur and children's competitions, street football are welcome.
Very often the brightest frames are stored in our mobile phone. Such photos or videos can be downloaded into "Instagram" with the tag #foreignview2018. The winner in the nomination "Mobile photo" will be determined by the popular vote.
Participants in the project "Foreign View" will become part of the world community, which annually creates for the future generations digital annals of the brightest events of our time. The best photos will be included in the photo album, which along with the best commercials will enrich the Presidential Library electronic collections. In addition, the materials sent to the multimedia contest will be part of the exhibitions on various cultural venues in Russia.