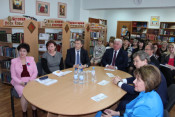 Share content in social networks:
The residents of the Uvelsky district of the Chelyabinsk region have had access to the Presidential Library resources
The opening of the center for remote access to electronic resources took place within the framework of the project of the Chelyabinsk Regional Universal Scientific Library "Presidential Library in the Southern Urals".
The opening ceremony was attended by State Duma deputy A. Litovchenko, head of the Uvelsky district S. Roslov, chairman of the district assembly of deputies V. Zyablin, deputy director for scientific and methodical work of the Chelyabinsk Regional Universal Scientific Library E. Mikhailenko. Uvelsky district residents together with them came to get familiar with the renovated reading room. Workers in the sphere of culture, education, and schoolchildren were among them.
The central event of the day was the solemn transfer of the electronic key from the access point by colleagues from the regional scientific library to the director of the inter-settlement centralized library system I. Gotovtseva. And the honored guests who came to this room also became the first visitors to the remote reading room of the Presidential Library. Each of them received a nominal reader's ticket.
Points of access to the Presidential library resources appeared not only in the Uvelsk Central Library itself, but also in its five rural branches - Krasnoselsky, Kichiginsky, Kamensky, Sineborsky and Homutininsky.
According to the project, until 2020, at least a hundred remote electronic reading rooms on the basis of libraries and educational institutions are expected to be opened on the territory of the Chelyabinsk region.
On the website of the Presidential Library the region is represented by the collection "Chelyabinsk region: pages of history". The selection includes digital copies of studies, essays, archival documents, statistical materials, photographs and sound recordings covering geographic, demographic, socioeconomic, socio-political and other aspects of the history of the Chelyabinsk region, especially the first third of the XX century.