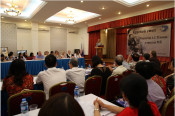 Share content in social networks:
The Russian Language Week launched in Vietnam
The Russian Language Week, traditionally organized by the Russian Center for Science and Culture in Hanoi, took place in Vietnam.
At the invitation of The Russian Center for Science and Culture in Hanoi the event brought together teachers from five Russian universities: Peter the Great St. Petersburg Polytechnic University, Peoples' Friendship University of Russia, Kurgan State University, N. A. Dobrolyubov Nizhny Novgorod State Linguistic University, Vladivostok State University of Economics and Service, as well as Russian philology specialists from the Russian Center for Science and Culture.
This year's lectures, seminars and master classes of Russian teachers highlighted the problem of socio-cultural, linguistic and academic adaptation of Vietnamese students at Russian universities; technologies and methods of language development at the initial stage of Russian language teaching outside the language environment; the organization of communicative and language games in the classroom and the development of communicative competence of students at Russian language lessons. Of great interest were the following themes: "The life of the language in culture and society" and "Common human values ​​in Russian culture", as well as master classes, which focused on teaching of traditionally difficult grammar topics and the technologies of showing films in Russian to foreign students with different language proficiency.
The culmination of the Week was the events that took place on the Day of the Russian Language. Thus, the roundtable at the Russian Center for Science and Culture featured a discussion about Pushkin as a phenomenon of the modern cultural environment in Vietnam as well as experience exchange in involving the poet's works in teaching the Russian language to the modern youth.
The round table and the exhibition dedicated to Pushkin, his lyceum friends and other interesting details of the great poet's life, were followed by a film show of the "Mistress into Maid" story (screen version of 1995) at the RCSC. At the end of the day, a concert of classical music was performed by laureates of international competitions and soloists of St. Petersburg Music House at Hanoi Conservatory.
The electronic collection «Russian Language» is available on the website of the Presidential Library. It features manuscripts and publications of monuments of Russian writing system, archives, scientific works (including dissertations and abstracts of dissertations), dictionaries and reference books, textbooks of various types and levels. The digital collection "Russian language" will be of interest not only to the scientific and educational community and linguists, but also to a wide range of users who love and appreciate the Russian language.
Based on the materials of http://rs.gov.ru