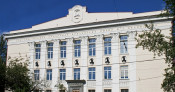 Share content in social networks:
Contest "Your history against the background of the country's history" in the Sverdlovsk region
The Sverdlovsk Regional Center of the Presidential Library, opened in the V. G. Belinsky Regional Universal Research Library, continues the network contest "Your history against the background of the country's history".
The idea of ​​the contest is connected with the book exhibition "The History of Russia from the XX Century to the XXI Century", which is running until August 22, 2018. To participate, you need to post online in one of the two social networks (Facebook or VKontakte) a personal story, a reminiscence related to the subject matter of the exhibition: the Soviet period, perestroika, the turn of the century, a short story that will reflect the relationship of human destiny and historical events.
On the Day of the National Flag of the Russian Federation, on August 22, the results of the contest will be summed up.
On the website of the Presidential Library the Sverdlovsk Region is represented by the collection "Sverdlovsk Region - Pages of History". The presented statistical materials, studies, essays and photographs of the XIX - early XX century illustrate the geographical, demographic, socio-economic and socio-political aspects of the history of the Sverdlovsk region.