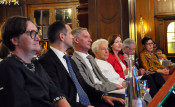 Share content in social networks:
Turgenev's 200th birth anniversary celebrated in Baden-Baden
In the city of Baden-Baden, the event "Literary Salon" took place within the framework of the project "Russian cultural evenings in Baden-Baden" on: "Russia and the West in the works of Ivan Sergeevich Turgenev", timed to the 200th birth anniversary of the great Russian writer.
The event was organized by the Diplomatic Academy of the Ministry of Foreign Affairs of Russia within the framework of the humanitarian diplomacy project "International Diplomatic Forum" with the support of the German-Russian Society of Culture Baden-Baden, the Turgenev Society of Germany and Rossotrudnichestvo.
The head of the Russian Center for Science and Culture in Berlin, P. A. Izvolsky, read out a welcome message from the head of Rossotrudnichestvo, E. V. Mitrofanova: "It is gratifying to emphasize that the anniversary is remembered not only in our country. Memorable events timed to Turgenev's 200th birth anniversary are held this year in all the offices of Rossotrudnichestvo, many of them were initiated by the public of the host country, and we note the great interest in this topic not only from our compatriots, but also from the local population".
During the working visit to Baden-Baden, negotiations were held with the head of the city library of the city Ms. Sigrid Münch, the representative of the Tsvetaeva Society of Russian Culture at the Freiburg Elizabeth Shore University, the manager of the Europa Campus Karlsruhe by Mr. Volker Kreyer and the head of the cultural and educational center "Russian house" in Karlsruhe Evgenia Norvatova. The meetings outlined the directions for further cooperation, as well as the issues of the upcoming celebration of the Turgenev's 200th birth anniversary in November.
The event ended with the screening of the feature film "Noble's Nest" (with German subtitles) after Turgenev's the same name novel.
On the portal of the Presidential Library, anyone have access to the electronic compilation of Ivan Turgenev's works, documents and studies about him, for example, the book by A. V. Smirnov "I. S. Turgenev (on the occasion of the 25th anniversary of his death)" or the collection "I. S. Turgenev in the memoirs of revolutionaries of the 70s".  
According to the portal http://rs.gov.ru