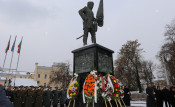 Share content in social networks:
The capital of Bulgaria celebrated the 141st anniversary of the liberation from the Ottoman yoke
Every year in January, Sofia celebrates the solemn date - liberation from the Ottoman yoke during the Russian-Turkish war in 1877-1878. By tradition, a memorial service was served in the Cathedral of Holy Week in memory of the fallen liberators of Bulgaria. Despite the cold weather, a large number of Sofia citizens gathered to commemorate the Russian soldiers.
At the end of the memorial service, Vice Mayor of Sofia Todor Chobanov, Counselor of the Russian Embassy in Bulgaria Valentin Gusev and Military Attache Vasily Sazanovich, representatives of the Russian Cultural and Information Center in Sofia and the night attaché of Night Wolves, as well as other prominent figures took part in a solemn event.
The Presidential Library's portal presents the electronic collection "Russia - Bulgaria: the History of Relationships", thanks to which one can get familiar with papers and documents on the Russian-Turkish war in 1877–1878 and the Treaty of  San Stefano. In particular, the collection includes the monograph "The Russian-Turkish War, predestined by Peter the Great about the deliverance of Eastern Christians from the Turkish secular yoke. Issue 1" and Issue 2 (1878), as well as "A brief tale of the Slavs (especially of the Bulgarians), i.e., of their origin, customs, belief, etc., and of oppression from the Turks" by A. Vyshgorodsky of the same year of publication.
Based on materials of http://rs.gov.ru