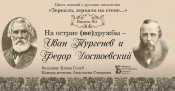 Share content in social networks:
Sverdlovsk Regional Centre of the Presidential Library to launch a series of lectures about writers
Sverdlovsk Regional Centre of the Presidential Library, housed at Vissarion Belinsky Sverdlovsk Regional Universal Scientific Library, presents a premiere of a series of online lectures devoted to the relations of famous writers.
The first issue features Fyodor Dostoevsky and Ivan Turgenev, whose personal and creative relations were always associated with mystery and incompleteness.
An immediate friendship turned into the inexpiable war of ideas that promoted widespread rumours in the society about the strong personal enmity of writers. The first issue of the new literary cycle highlights the origins of this "eternal" disaffection, as well as some unusual facts from the biographies of Russian classics.
The Presidential Library's portal also presents the current collection "Sverdlovsk Region: Pages of History", which contains statistical materials, research, essays and photographs of the XIX - early XX centuries and features the geographical, demographic, socio-economic and socio-political aspects of the history of the region.