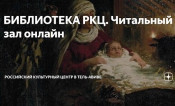 Share content in social networks:
The Russian-language cultural and educational project "Reading Room Online" underway in Israel
The representative office of Rossotrudnichestvo in Israel on Russian-language platforms in social networks has launched a cultural and educational distance project of the library of the Russian Cultural Center in Tel Aviv for compatriots "Reading Room Online".
The project has been organized by philologist-Russianist, doctor of linguistics, methodologist of the RCC Tatiana Yatsyuk. Within the framework of the "Reading Room Online" project, readers get free remote access to books from the center's library collections, can take part in the discussion of what they have read and leave their feedback.
The remote reading room will present the best editions of Russian classics and modern literature for both adults and children. The first publication of the reading room online is dedicated to the Christmas cycle of Joseph Brodsky.
Compatriots in Israel have got opportunity to learn about the materials of the electronic collection of the Presidential Library Russian Language, which includes manuscripts and publications of monuments of Russian writing, archival files, scientific works, dictionaries and reference books, teaching aids. The materials are presented on the institution's portal and in the centers of remote access to information resources of the Presidential Library, located in 30 countries of the world.
Based on the materials of https://isr.rs.gov.ru/ru portal.