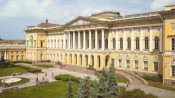 Share content in social networks:
The Director of the State Russian Museum spoke about projects of the Cross Russian-Italian Year of Museums
The Russian Centre for Science and Culture in Rome provided an interview with Vladimir Gusev, General Director of the State Russian Museum.
During the meeting, he spoke about Russian artists who came to the Apennine peninsula in search of inspiration and the exhibition "Divine and Avant-garde. Women in Russian Art", opened in Milan. This unique exhibition project represents the history of Russian art showing the images of women and their creations. It is a significant event in the cultural life of both countries. Also, the interview spotlighted new projects presented as part of the Cross Russian-Italian Year of Museums in 2021–2022.
The electronic collections of the Presidential Library are available for anyone interested in Russian art. For example, the special electronic collection Antiquities in Russian Art features materials about architectural monuments and applied art items found during archaeological excavations on the territory of the Russian state, as well as fine art objects from cathedrals, churches, private and public collections.
The Presidential Library's Internet portal releases only a part of the unique digitized materials. It is possible to explore the collections of the national electronic storage in full in the Presidential Library's Centres of Remote Access. They operate in all regions of the Russian Federation and 30 countries abroad.