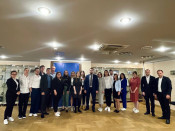 Share content in social networks:
Delegates from Moldova awarded certificates of participants in the New Generation presidential program
The head of Rossotrudnichestvo Yevgeny Primakov awarded the Moldovan delegation that had visited Moscow certificates of participants in the New Generation presidential program. The main content of the program is the organization of short-term trips to the Russian Federation of young representatives of political, public, scientific and business circles of foreign states in order to show them various aspects of social, political and cultural life in the Russian Federation and to prepare proposals for the development of cooperation with the states they represent."By launching programs such as New Generation, we want to form a real idea of ​​what is happening in Russia: in medicine, politics, IT. The key task is to train specialists who will return home and strengthen their own countries", - Yevgeny Primakov said. He also answered questions about the new priorities of Rossotrudnichestvo work and about the possibilities of interaction between Russian and Moldovan Regions.
The collection Russia - Moldova: the History of Relationship has been formed in the electronic collections of the Presidential Library. It includes statistical materials, studies, essays, archival documents and newsreel fragments of the early 19th - mid-20th centuries and spotlights geography, military history, administrative-territorial division, legal system and ethnography of Moldova - Bessarabia during the period of its entry into a common state with Russia.
In full the materials of the national electronic repository are available in the centers of remote access to the information resources of the Presidential Library located in various countries of the world.
Based on the materials of https://www.facebook.com/rsgov portal.