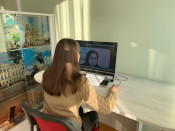 Share content in social networks:
Tambov Regional Center of the Presidential Library: Strengthening Interregional Cooperation
November 24, 2021 the Regional Center of the Presidential Library based on the Pushkin Tambov Regional Universal Scientific Library attended the scientific and practical conference "Libraries in the cultural space of the region: concentration of experience and generation of ideas", dedicated to the 185th anniversary of the Perm State Order "Badge of Honor" of the Gorky Regional Universal Library.
Scientists, librarians and archivists, professors and university students from Izhevsk, Tambov, Tyumen, Perm and other cities attended the online conference and discussed the traditions of librarianship and the formation of innovative experience, interdepartmental and intra-system library partnership, the formation of a new cultural space, regional features of the development of libraries.
In her speech "Information and educational functions and the potential of electronic collections of the Presidential Library" the head of the Tambov regional center of the Presidential Library Lilia Fetisova spoke about the formation of the Presidential Library fund, basic collections (Territory of Russia, State power, Russian people, Russian language), as well as the specifics of positioning available resources through electronic reading rooms.
The Presidential Library's portal features the electronic collections Perm Territory: Pages of History and Tambov Region: Pages of History, which include studies, essays, statistical materials and archival documents spotlighting the administrative, economic, demographic, and ethnographic situation of these regions.