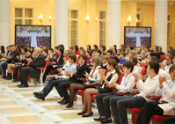 Share content in social networks:
The Presidential Library resources are in the basis of the "All-Russian Philological School"
October 15, 2013 at the Presidential Library was launched an innovative educational project "Russian Philological School".
The initiative is implemented by the Herzen State Pedagogical University OF Russia, it is aimed at developing students' interest in philology and nurturing love for the Russian language. The conference was attended by students and teachers from different regions and cities of Russia: Yakutia, Ulan-Ude, Noyabrsk, Vladivostok, Ussuriysk, Perm and Orenburg.
"All-Russian Philological School" will help students throughout Russia not only to study in detail features of the modern Russian language, but also learn about its development over the centuries. The Presidential Library Director for Science, Konstantin Knyaginin said that the venue of the project was not chosen by chance: the Presidential Library's holdings include more than 260,000 units of material and documents on the history of Russian statehood and Russian language as the official language of the Russian Federation.
In addition, the Presidential library implements various educational projects. These include exhibitions and digital collections to mark the memorable dates in Russian history, interactive Olympiad for schoolchildren "Russia in the Electronic World," which was launched on the website of the Presidential Library 
In September, the library opened the thematic Year of Russian language. This educational campaign is aimed at promoting the study of Russian language and its history. The Presidential Library developed a new basic collection "Russian language," which features more than 500 unique books , documents, and video lectures.
Director for Scientific Activities of the Presidential Library, K. N. Knyaginin