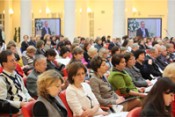 Share content in social networks:
The Presidential Library integrates digital resources
At the II International Scientific-Practical Conference «e-Culture: Development of electronic resources in the field of culture and education" held on February 19, 2014, in the Presidential Library, experts discussed issues of modern technology to convert documents in electronic form.
According to Deputy Director General Pavel Tereshchenko, the Presidential Library is the only organization in the country, which, in compliance with the state assignment, is designed to form a nation-wide repository of information resources in the form of digitized works and documents and to organize access to them. In this area, the library has gained a rich and largely unique experience gained through interaction with organizations engaged in digitization and continuous development of the scanning department of the library.
With this in mind, it is necessary to adopt uniform state standards for digitization focused on the preservation of cultural values and their representation in the digital environment to maximize user's access. One of the examples of cooperation with the Presidential Library in scanning and integration of resources is "Elar" company. It works with the first national electronic library of the country, converting into electronic form rare books and documents, materials from museums and archives.
In 2014, the conference has gained international status – the Presidential Library brought together representatives of libraries from around the world. All agree on the common view that the exchange of information and experience with foreign colleagues is an important part of efficient work on the development of electronic resources. During the conference, the exhibition of modern scanning technology was on display, where participants were able to compare the quality of electronic copies produced by different equipment.
It was emphasized that the scanning is aimed at the final result - the formation of open resources for public access in the information environment. As it was noted at the conference, today the Presidential Library website contains 114 collections.