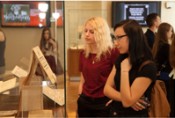 Young voters are awaited at the Presidential Library
April, 2016 the Presidential Library will launch multimedia lessons about electoral law in Russia. They will be held on the eve of a single day of voting. Multimedia lesson "ABC of a Young Voter" aims to make students understand the importance of participating in the elections and the implementation of their voting rights.
An educational film, based on the materials of the Presidential Library and the Election Commission of the Leningrad Region was prepared particularly for the lessons. The film tells the students about the features of electoral systems in the history of Russia, the current electoral law and participation in the elections.
The multimedia lesson is based on working with a digital thematic collection of documents "Electoral system in Russia: Past and Present." The collection includes official documents (voting papers, absentee ballots, lists of candidates, etc.), archival materials (draft reform of the electoral system, programs of political parties, memories, photos, newsreels, records of lectures), research works.
Pre-Revolutionary, Soviet and modern editions included in the collection reflect the evolution of the electoral law in Russia in the past and the present. In addition to working with the digital collection, participants will have an opportunity to visit a multimedia exhibition, and review the texts of laws of different times, such as the Regulations on elections to the 1st State Duma of the Russian Empire of August 6, 1905; the Constitution of the RSFSR of 1918 and the Constitution of USSR of 1936. Students will be asked to compare electoral systems in Russia in the past and in the present by the example of these texts.
An important part of the lesson will include an e-voting, during which students will tell what each of them considers the most important for themselves while participating in the elections: performing of civic duty, influencing the decision of the important issue, facilitating the entering to the supreme legislative body for professionals? The motive for taking part in the elections may be different, but the very participation guarantees the protection of the interests of any citizen of Russia.
 At the end of the lesson, students will perform tasks to test the knowledge gained.
Multimedia lessons have become traditional for the Presidential Library. In previous years, the library organized such lessons for students of Saint-Petersburg and Leningrad Region timed to the 20th anniversary of the Russian Constitution, the Year of Literature in Russia and the 190th anniversary of the Decembrist uprising.
Remote versions of multimedia lessons have been developed for students of 8th - 9th and 10th -11th grades. Materials of the lessons can be found on the multimedia lessons page of the Presidential Library website.
Multimedia lessons are designed for high school students. They are absolutely free of charge. Lesson duration is 1 hour. They are available to all interested students of St. Petersburg and regional educational institutions. To attend please pre-register by calling (812) 305-16-51 or send an email to: cep@prlib.ru.