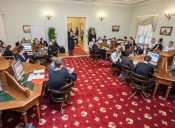 Share content in social networks:
"Your Choice" in the Presidential Library
The Presidential Library hosted the business game "Your Choice" among senior pupils, dedicated to the right to vote and timed to the election of the President of Russia. This is the final stage of the game, which has great socio-political significance.
In the electronic reading room schoolchildren got familiar with the materials of the thematic collection of the Presidential Library "The Electoral System in Russia: the Past and the Present", which helped them to find the right solutions and answers to the game's questions. The collection includes more than 200 items of storage and gives a holistic view of the history of the formation of the electoral law in our country, as well as its current state. According to the schoolchildren, they will continue to use the resources of the Presidential Library, as this source of information guarantees reliable, verified information for study, work, science and education.
The event, in which the four winning teams of the "Your Choice" program from the Vyborgsky district of St. Petersburg participated, took place in the form of presidential elections. Each team acted as the electoral headquarters of the virtual party and nominated its candidate. The participants were offered to prepare brief abstracts of their electoral program, to find answers to complex questions from the history of the electoral law, to solve situational tasks, and, most importantly, to take part in voting.
The team of the school № 494 was the most successful. Its captain, Yakov Agranovsky, according to the results of the general vote, was recognized as the best "presidential candidate".
The second place went to guys from the school № 103. The third place of the jury, which performed the functions of an independent election commission during the game, was divided between the teams of GBOU School № 135 and № 60.
The event was covered by young correspondents of the journalism studio "Reporter" and the media center "LUCH" in the Vyborgsky district of the Russian schoolchildren's movement. Beginning journalists prepare educational and thematic materials for the regional newspaper "School reporter" and make videos that cover not only the issues of academic life, but also the activities of the Russian schoolchildren's movement.
Owing to such events as the business game "Your Choice" held in the Presidential Library, senior pupils have the opportunity to develop professional skills, to learn to evaluate important social phenomena in the state. That is why the schoolchildren's basic knowledge of the role and significance of elections, their history in different periods of the life of the state is extremely important in the system of modern education. It is important to note that some participants of the game "Your Choice", who are already 18 years old, will go to the polling stations for the first time in a few days and, having made their choice, will vote for one of the candidates for the presidency of Russia.