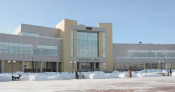 Share content in social networks:
The first center of the remote access to the Presidential Library's collections was opened in Nefteyugansk
Today, on March 16, 2018, in Nefteyugansk, located in the Khanty-Mansi Autonomous Area, the first in the city center of access to the information resources of the Presidential Library was opened. The remote electronic reading room was located on the basis of the Nefteyugansk City Library.
Representatives of state authorities, science and education, culture, business, mass media, schoolchildren and cadets took part in the opening ceremony. The staff of the Presidential Library in St. Petersburg, students and teachers of the school № 4 in Yalutorovsk in the Tyumen region took part in the video-conferencing mode.
As it was noted, the opening of the remote center provided residents and visitors of the city an access to the Presidential Library collections, which today has more than 600,000 items of storage. In addition, now, thanks to the video conferencing system, visitors to the center have the opportunity to participate in video lectures, conferences, forums and other events held by the Presidential Library.
As part of the grand opening, the event participants got familiar with the possibilities of the new remote access center: the students prepared reports based on materials from the electronic reading room of the Presidential Library, a distance lesson of the literary studio for the students of Nefteyugansk and Yalutorovsk was held. Also, guests were told about their own project of the library "Presidential Chronicle", which includes, in particular, the film "Symbols of Presidential Authority" and a selection of "The Institute of Presidency".
The Center of Remote Access to Resources of the Presidential Library opened in Nefteyugansk has become the 29th for the Khanty-Mansi Autonomous Area. Cooperation with the region has been actively developing since December 2013, when an agreement on cooperation between the district administration and the Presidential Library was concluded.
On the portal of the Presidential Library the collection "Khanty-Mansi Autonomous Area - Yugra: Pages of History" is presented. The collection includes studies, archival, statistical, visual and audio materials of the late XVIII - early XXI century, describing the administrative, socio-economic and cultural situation of the region. Rare books on indigenous peoples: "Voguls: sketches and essays" (1904), "Anthropological essay of the Ostyaks of the Surgut region" (1890), "Voguli-Mansi: a historical ethnographic sketch" (1904).
The establishment and development of cooperation with the regions is one of the priority directions of the work of the Presidential Library. In 2016, the creation of a unified network that united all 85 subjects of the Russian Federation was completed. There are more than 500 remote access centers in the country today. They are open in all regions of the Russian Federation on the basis of central libraries, as well as in state bodies, museums, archives, educational institutions.