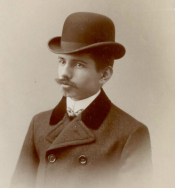 Share content in social networks:
The Presidential Library to show film about teacher Pierre Gilliard, the only surviving witness of Nicholas II and his family's death
On April 24, 2019 at 4:00 p.m., the Presidential Library's Cinema Club meeting will show and review the documentary film "The Return of Pierre Gilliard" (2018), the scriptwriters and directors - Lyudmila Schacht and Konstantin Kozlov, "NATAKAM Film Studio" (supported by the Honorable Russian Consulate in Lausanne and the Government of St. Petersburg).
The storyline features Pierre Gilliard (1879-1962), a citizen of the Swiss Republic, who was invited to Russia to teach Nicholas II's children, where he was destined to become the only surviving witness to the tragic fate of the emperor and his family. Gilliard arrived in Russia in 1904, at the beginning of the revolutionary events, and left it in 1920, saving the ashes of people dear to him and the investigative case about their death from the flames of the Civil War. He also managed to take out his unique archive - diaries, letters, memorable relics, and most importantly, photographs. About 30 unknown photographs taken by P. Gilliard have been used in the film.
Grand-nephews, writer Pierre-Frederic Gilliard and doctor Jacques Moser, tell about Pierre Gilliard and his fate. The film is based on chronicles and photographs as well as the memories of the teacher of emperor's children. After returning from Russia to Switzerland, he wrote and published the book The Tragic Fate of Nicholas II and the Royal Family. Later it was reissued under the title "13 years at the court of the Romanovs". Pierre Gilliard passed away in his hometown Lausanne.
Accreditation of media representatives is available until 3 p.m., April 23, 2019.
Please forward applications for accreditation following the attached form to email addresses: media@prlib.ru, pechnikova@prlib.ru, Tatiana Pechnikova, the Presidential Library's press-service, tel. (812) 305-16-21, ext. 534; mob. +7 921 436 72 86.
The attached form should include the full name, name of the media, date and place of birth, passport details (series, number, place of registration), a list of carry-on equipment, contact numbers. The subject of the letter should indicate: "Accreditation for the film "The Return of Pierre Gilliard"".
Please note that the admittance to the Presidential Library is carried out only by prior request and upon showing a passport: participants and guests of the event go through entrance № 1, media representatives go through entrance № 2.