Dear visitors!
The electronic reading room opening hours:
Monday – Saturday: 11:00 to 19:00 (entrance to the building is carried out until 18:00),
Sunday – closed.
For more information about visiting the electronic reading room please call (812) 305-16-31, e-mail: reference@prlib.ru.
In order to reduce the risks of the spread of a new coronavirus infection (COVID-19), the use of personal protective equipment during the event is mandatory for all attendees.
More information about the Presidential Library and its resources is available on the institution's portal www.prlib.ru, presidential-bibliothek.rf and the institution's page on social network VKontakte, official channel of the library in Telegram messenger, as well as on the page of the Tyumen branch of the Presidential Library VKontakte.
The electronic reading room is intended to provide access to electronic collections of the Presidential Library and to provide information and bibliographic services to users and visitors.
The electronic reading room of the Presidential Library is housed on the third floor of the historic building of the Synod. There is a beautiful view of the famous cultural sights of the northern capital - St. Isaac's Cathedral and the Bronze Horseman from its windows. The interiors of the hall, decorated in the style of the 19th century, possess the resources to work with sources that contain Russia's historical and cultural memory in digital format.
In order to get to the ERR, it is enough to have a passport or other identity document with you. Each reader receives an individual login and password for access to the Personal account. This allows you to later save the information you found, to build your collection of sources, and also to make orders for copying materials that are not limited by copyright law.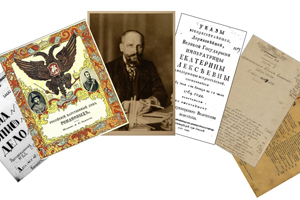 In the electronic reading room, unlike the Internet portal, the entire electronic fund of the Presidential Library is available.
The fund combines a variety of resources: book editions, rare archival cases, ancient manuscripts, graphic and cartographic materials, multimedia content (audio and video recordings). The main subject of the fund is connected with the history of Russia (from antiquity to the present day), Russian legislation and the Russian language. Particular attention is paid to issues of national geography and local history, the relationship between Russia and other countries, the reflection of Russian history in works of literature and art. The materials of the Electronic Reading Room will be of interest to everyone who really enjoys the history of the country and the search for new facts.
Please note that visiting the Presidential Library's exhibitions halls is possible only by prior registration as part of an organized excursion group.
Access to the building of the Presidential Library can be limited during the period of mass and official events. Information about changes in the mode of the electronic reading room is available on the portal of the Presidential Library www.prlib.ru
Contact information on the issues of entry, the mode of the electronic reading room, as well as bibliographic services:
Tel.: +7 (812) 305-16-31
E-mail: reference@prlib.ru