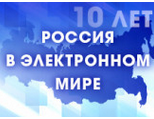 Share content in social networks:
"Russian as a Foreign Language"- a new discipline marking the tenth anniversary of Russia in the Electronic World Olympiad
1 October 2019 – 31 March 2020
The tenth anniversary interactive Olympiad of the Presidential Library Russia in the Electronic World has been added with one more discipline in 2019/2020 academic year. Since October 1, the Olympiad on the subject "Russian as a Foreign Language", aimed at promoting the Russian language and Russian culture abroad was launched. The contest is designed for foreign citizens (schoolchildren and students) over 14 years old, already studying the Russian language, which means they have a certain interest. To participate please visit the link: http://olympiada.prlib.ru/rusforeign/#/Welcome.
The Olympiad on  the discipline "Russian as a Foreign Language" is held in two stages. The first preliminary stage is carried out in absentia using the Presidential Library's remote knowledge testing system and will be running from October 1, 2019 to January 26, 2020.
The final stage will take place in the period from March 25 to March 31, 2020 in full-time on the basis of the reading rooms of the Presidential Library both in Russia and abroad. The tasks of the qualifying stage of the Olympiad involve three levels of assessing Russian language proficiency: elementary level (A1), basic level (A2), and the first certification level (B1).
Detailed information concerning participation in the event is available on the website: http://olympiada.prlib.ru. You can also contact the scientific and educational department: olympiada@prlib.ru tel. (812) 305-16-51
All details about Russia in the Electronic World Olympiad are available by clicking the link: https://www.prlib.ru/afisha/1279043.