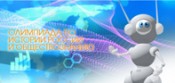 The Presidential Library announces the launch of the annual Olympiad "Russia in the digital world"
September 19, 2011 starts the first round of the annual online Olympiad organized by the Presidential Library for the senior school students and students of primary and secondary education "Russia in the digital world." For the second consecutive year students from all over Russia are offered the opportunity to compare their knowledge of our state with the knowledge of others in the Internet space.
In the new school year, the "Russia in the digital world" includes questions on two subjects: the history of the Fatherland and social science.
Like last year, the Olympiad consists of three rounds. The first and second rounds are held distantly: in a limited period of time, after a simple registration procedure, the participants should perform the tasks offered on the portal of the Olympiad in online mode. Finalists will be invited to the Presidential Library, which will host the third, intramural, round of the competition.
Last year Olympiad participants do not need registering on the portal, all they have to do - enter their former username and password. Prize winners of the "Russia in the digital world" 2011, who continue to follow educational programs of secondary education, will be allowed to participate directly in the final round of the competition.
To answer some of the questions, the contestants will first have to study manuals and books of 19th – early 20th century offered in the "Textbooks on the history of Russia" and "References" on the web site of the Olympiad.
The Olympiad is conducted with the aim of developing among the younger generation of interest in the history of their country, developing a sense of responsibility for the preservation and development of the Russian statehood, as well as identifying young talents in the field of history and social studies.


According to the experts who prepared the Olympiad, its materials will be useful not only for students but also for teachers of history and social science, heads of methodological unions. In addition, some parts of the tasks can be used in class.
In the 2010/2011 academic year, the Presidential Library Olympiad "Russia in the digital world" focused entirely on the history of the Fatherland. Then, senior school students from 71 regions of the Russian Federation competed for the diploma of winners.
Detailed information on the participation in the Olympiad in history of the Fatherland and social science "Russia in the electronic world," and the registration form is available on the site of the Presidential Library www.prlib.ru.