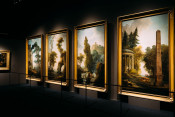 Museums of Russia: Paintings by French masters from the collection of the Arkhangelskoye Museum Estate exhibited in the New Jerusalem Museum
The exhibition "The French Taste of the Yusupov Princes" has been open in the New Jerusalem Museum and Exhibition Complex (Moscow Region), which features the largest private collection of the 18th - first third of the 19th century, which belonged to Prince Nikolai Borisovich Yusupov and his descendants. The project offers a new perspective on the history of collecting, telling about the origins of this phenomenon in Russia. In total 37 works are presented.
The exposition includes works from the collection of the Arkhangelskoye Estate Museum, which for the first time so generously shows outside its borders a unique collection.
The exhibition will run until August 28, 2022 and will be accompanied by an additional educational program for visitors. A printed guide, a series of souvenirs and an audio guide have been prepared for the project.