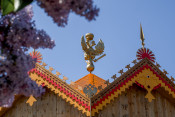 Marking the 350th anniversary of Peter the Great: The exhibition of paintings dedicated to the founder of St. Petersburg opened on the Field of Mars
The exhibition 30 paintings from the life of Peter the Great. 2022 has been opened on the Field of Mars, marking the 350th anniversary since the birth of the first Russian Emperor.
The project is a historical reconstruction of the public celebration that was held in St. Petersburg 150 years ago.
The pavilions showcase digital copies of 14 historical paintings from the collections of the State Russian Museum, as well as 16 contemporary paintings on historical themes, created by the graduates and teachers of the St. Petersburg Academy of Fine Arts. Just like 150 years ago, the paintings were installed in the pavilions designed to resemble traditional Russian wooden cottages. The architectural layout of the pavilions was recreated based on the original sketches and engravings. Visitors will have an opportunity to see the Field of Mars in the days of anniversary celebrations 150 years ago and immerse themselves into the festivities of 1872 via the virtual reality attraction.
The central pavilion features the exposition showcased in seven digital displays. It tells about the traditions of the celebration of Peter the Great's anniversaries, his reforms, and memorializing Peter the Great in the city monuments. Pavilions were created using the combination of modern materials and new technological inventions. Every painting has a QR-code through which visitors have a chance to learn about the historical context of the paintings. Every exhibit is complemented by the video guide in 9 languages, including sign language.
The exposition will run until August 9, 2022 around the clock and will be free.
The gift edition of an album dedicated to Peter, his accomplishments and history of the celebration of Tsar-reformer's anniversaries was published within the project. The digital version of the album is available for everyone on the project's website https://30paintings.ru/.