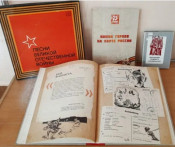 Marking the Day of Remembrance and Sorrow: The exhibition "That one long day…" opened in Tver
Herzen Tver City Library hosts the exhibition That one long day…, timed to coincide with the Day of Remembrance and Sorrow (June 22, 1941).
The exhibition showcases books from the rare collections of the Library: modern publications and articles of the war time, fiction and scientific literature, publications about local history.
The exposition is complemented by the information stand Won't forget! Won't forgive! Atrocities of the German Nazi invaders in Kalinin Region. The stand displays materials from the eponymous book of the Kalinin Regional Committee of the Party (published in 1942). The book features stories based on the recollections of soldiers and civilians.