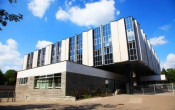 Share content in social networks:
The first-ever center of access to the resources the Presidential Library opens in Poland
A ceremony of official opening of the first-ever remote electronic reading room of the Presidential Library in Poland will be held on August 17, 2017, at 1 pm MSK (12 pm local time). The Russian Center for Science and Culture in Warsaw accommodates the premises of the remote reading room.
Residents and guests of the Polish capital will receive an access to unique documents, archival materials, and the books from the Presidential Library electronic stock, which currently numbers more than 550 thousand entries. Additionally, the electronic reading room will become a platform for cultural, educational, outreach and awareness raising projects focused on the history of Russia.
Prominent cultural and scientific figures, leaders of public organizations of Russia and Poland, staff employees of the Presidential Library will attend a ceremony of the official opening.
Granting open access to the library stock for the broad auditory of users and saving the historical and cultural heritage for future generations is a major priority of work of the Presidential Library. There are already more than 30 remote electronic reading rooms of the Presidential Library in 25 countries, including Great Britain, Finland, Bulgaria, Italy, the Czech Republic, Hungary, and others. The library continues its active development today, planning to open the remote electronic reading rooms all over the world.