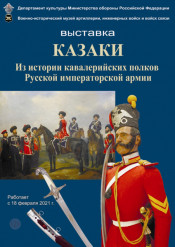 Share content in social networks:
History of Russia: Exhibition "Cossacks. History of the Cavalry Regiments of the Russian Imperial Army" launched in Saint-Petersburg
The Military Historical Museum of Artillery, Engineers and Signal Corps (Saint-Petersburg) launched the exhibition "Cossacks. History of the Cavalry Regiments of the Russian Imperial Army". It highlights the unique military estate of the Russian Empire.
Modern science states that the Cossacks are an ethnic, social and historical community with several common characteristics. It unites all Cossacks, primarily Russians, as well as Ukrainians, Kalmyks, Buryats, Tatars, Bashkirs, etc.
The Cossacks appeared in the XIV century. By the end of the XV century, several large communities inhabited central Europe near main trade routes. They lived, in particular, in the lower reaches of rivers - Danube, Dnieper, Don, Vistula and Neretva. They acquired lots of immigrants from neighbouring provinces, some Polish territories and other states. As a result, by the XVI century, some groups turned into large free military formations called Cossack troops.
In 1802, the Russsian authorities developed the first Regulations for the Cossack troops. All Cossack men were committed to military service for 20 years. Unlike the regular army, which drafting protocol had some benefits and exclusions, the Cossacks were obliged to serve all without exception.
The Cossacks excelled on the battlefields of the Northern and Seven Years' Wars, during the Italian and Swiss campaigns of Alexander Suvorov in 1799. During the Patriotic War of 1812, the Cossack regiments as part of the Cossack corps of the cavalry general Mikhail Platov played a significant role in Napoleon's defeat. The Cossack units took an active part in the conquest of the Caucasus, Kazakhstan and Central Asia, the development of the territories of Siberia and the Far East.
The First World War engaged more than 300 thousand Cossacks. However, the war showed the ineffective use of large horse masses (the Cossacks were 2/3 of the Russian cavalry) considering an extensive frontline and a high density of infantry and artillery fire.
The new exhibition provides a detailed history of the Cossacks. It presents their weapons, uniforms and spotlights their feats.
The exposition includes such unique exhibits as an officer's sabre that belonged to Emperor Nicholas II; children's Cossack officer's cavalry sword of his son - Grand Prince Alexei Nikolaevich; an officer's Cossack sword of Grand Prince Mikhail Nikolayevich Romanov, etc.
The most precious item is a smoking pipe of Yemelyan Pugachev, the leader of the Peasant War of 1773-1775, who was one of the most famous Cossacks.