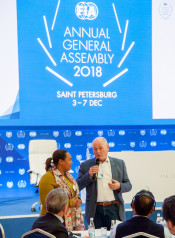 Share content in social networks:
Automobilists from around the world gathered in the Presidential Library
December 5 and 7, 2018 events of the Annual General Assembly of the International Automobile Federation (FIA) are taking place in the Presidential Library. The events brought together delegates from national federations, clubs, sports associations, renowned champions and coaches.
"These days Saint Petersburg has become the capital of world motor sport, - the message to the participants and guests of the General Assembly from the President of Russia Vladimir Putin reads in part. Today motor sport is on the rise in Russia. We have hosted very successfully major international competitions,  such as the Russian Formula 1 Grand Prix and the Silk Way Rally, in which our racers performed very well".
The week of the Annual General Assembly of the FIA ​​started in St. Petersburg on Monday, December 3. Over the course of several days, more than 50 events, meetings and discussions have been scheduled at various venues in the northern capital, the results of which determine the development vector of world motor sport. Among them are the press conferences of the presidents of the International Automobile Federation (FIA) and the Russian Automobile Federation (RAF) Jean Todt and Viktor Kiryanov, the ceremony of awarding the world champions in automobile sports (Prize Giving Gala 2018), a meeting with Russian riders participating in the Prize Giving Gala 2018, photo session with cars of world champions on Palace Square (Car family photo), international meeting "Women in Motorsport" with the participation of women - top managers of Russian and international auto federations, racers, etc.
A forum on the benefits of membership in clubs was held at the Presidential Library's site on December 5, the key topic of which was the discussion of joint (collective) innovations. On Friday, December 7, a meeting of the FIA ​​General Assembly will also be held here.
It is worth noting that 2018 is an anniversary year for Russian motor racing. The first car race in our country took place at the end of 1898 in St. Petersburg. Five years later, the Imperial Automotive Society was opened in the city on the Neva. The Russian Automobile Federation has been existed since 1991.
The International Automobile Federation (FIA), with headquarters in Paris, was founded in 1904. It regulates such well-known sports events as the Formula 1 World Racing Championship, the World Rally Championship, the World Karting Championship, etc.
One of the most important functions of the Presidential Library, opened in 2009, is to host major regional, federal, and international scientific, social, political, cultural, and sports events. Besides, in 2018, the Presidential Library prepared a number of projects timed to the World Cup in Russia. The portal of the institution provides a virtual tour of the interactive exhibition devoted to the FIFA World Cup.