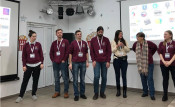 Share content in social networks:
Winter International Cinematographic Change united schoolchildren of Russia and Poland
Winter International Cinematographic Change "#CROD! Camera! Motor!" is running from January 5 to January 12, 2019 at the Center for the Development of Gifted Children in Kaliningrad Region.
"#CROD! Camera! Motor!" is a change in the Center for the Development of Gifted Children, aimed at the intellectual and creative development of schoolchildren by involving them in collective activities to create short films. Participants in film crews can shoot feature films, fiction films or documentaries. The shift is aimed at the formation of a theoretical and practical base of film production. Thework in film industry involved theater and television from Russia and Poland. At the end of the shift, all participants present their work at the traditional open festival of children's short films.
The shift was organized by the Center for Development of Gifted Children and the School of the Future with the support of the Russian Center for Science and Culture in Warsaw, the Russian-Polish Center for Dialogue and Harmony Foundation, the Ministry of Education of Kaliningrad Region, the Ministry of Culture and Tourism of Kaliningrad Region area of ​​the Warsaw Film School.
The Presidential Library's portal features electronic collection "Marking the Year of Russian Cinema". The selection includes official documents, studies, various graphic materials (posters, posters, postcards, etc.), revealing various aspects of the development of national cinema from the beginning of the 20th century, as well as representing individual films and actors of Russian and Soviet cinema. The collection includes about 600 documents.
Based on materials of http://rs.gov.ru.