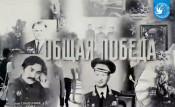 Share content in social networks:
"Common Victory" campaign held in Uzbekistan
Marking the year of the 75th anniversary of Victory in the Great Patriotic War, the Embassy of the Russian Federation in the Republic of Uzbekistan and the representative office of Rossotrudnichestvo in Uzbekistan held a joint campaign "Common Victory".
The participants of the event talked about their fathers, grandfathers and great-grandfathers - the defenders of the Motherland, who endured all the hardships of the bloodiest war in the history of mankind. It brought great grief to every family, but at the same time rallied all the peoples of the Soviet Union in the fight against the enemy. The result of the campaign was a video recording of the stories sounded, which is available on the website of the Russian Center of Science and Culture in Tashkent.
A large number of materials about the Great Patriotic War are presented in the large-scale electronic collection of the Presidential Library "Memory of the Great Victory". These are official documents, photographs and newsreels, wartime newspapers, propaganda publications, collections of articles, testimonies of combatants and home front workers, and much more.
Only a part of the unique digitized materials is posted on the Presidential Library's portal and in the remote electronic reading rooms of the Presidential Library located in different countries.
Based on the materials of http://uzb.rs.gov.ru/ru portal.