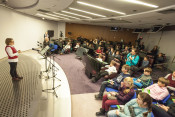 The works of "Giraffe" Children's Film Production Studio were screened in course of the "Green view" Environmental Film Festival in the Presidential Library
The Cinema Club dedicated to the Year of Ecology in Russia met in the Presidential Library. Its audience got familiar with the best works of the "Giraffe" Children's Film Production Studio from St. Petersburg. The movies and commercials were watched within the framework of the "Green View" XXII International Environmental Film Festival, which takes place in the Northern capital on November 21—24.
Before the show, a director, a scriptwriter, a producer and a teacher, the rector of the Autonomous Non-commercial Organization "Giraffe" Film Production Studio Olga Shulgina told about a beginning of the studio: in the year of its foundation 2009 only two children work were submitted on the "Green view" Ecological Film Festival. And we did not really know, what to do with them — they were so different from the movies produced by the adult filmmakers. Unconventional view of things, ingenious presentation of the material, sincerity, irony and humor — all this qualities made the works of debutants so interesting. But one very disappointing disadvantage came to the fore: a shaky, an uncertain camera shot these movies. And then we thought: what if we teach the kids the techniques of shooting and writing the storylines for the scripts, explain what the film direction is? That means, to create a kind of cinematographic school where students would learn the basics of film production craftsmanship, to let then try themselves out in cinematography." So that is how the "Giraffe" studio was born. By the way, the kids themselves invented the name for the studio, explaining: first of all, "Giraffe is tall — he better knows," and the second, he looks from the side like a camera on a tripod…
Screened at the Presidential Library Cinema Club children's works of the studio explored the theme of careful attitude toward the nature. The very names of the movies, promos and the commercials already clearly and originally reveal various environmental problems: "I am a garbage," "The garden made of white stripes," "A chewing-gum" and others.
One of the featured shorts — "The garden made of white stripes" tells a story about a boy who is living in a fantastic, unreal world: he walks in a garden that does not exist, looks at the sunsets and dawns only indicated on the wall with these words. But one day he discovers in his garden a small green sprout and begins to take care of it —pouring water, scratching a ground around it — and the world around him begins transfiguring.
It is stated in the children's studio program: "We shoot only good movies that help make our world better. Our mission is the environmental education, bringing up of socially aware life position and environmentally friendly views in children and teenagers."