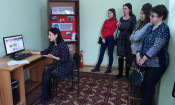 Share content in social networks:
Specialist Day for teachers of history and social studies in the Kurgan region
March 27 a Specialist Day for teachers of history and social studies was held in the A. K. Yugov Kurgan Regional Universal Scientific Library.
During the event, teachers got familiar with the resources of the Presidential Library and the possibilities of using them in their work. The Presidential Library collections contain textbooks, teaching aids, training films, which are an invaluable complement and illustrative material for the preparation and holding of lessons.
During the practical lesson, teachers mastered a simple and extended search for books, learned how to correctly make search requests, and got familiar with the collections necessary for their professional activities. Teachers were shown the possibilities of access to the library collections on the portal and through the remote electronic reading room. Participants of a Specialist Day virtually flipped through the oldest documents on the history of Russia.
A particular interest was the collection of Textbooks in the history of Russia. Also, the teachers studied the regional collection "Kurgan region: pages of history", presented on the Presidential Library portal. The selection includes studies, statistical essays, archival documents, cartographic and photographic materials of the XIX - beginning of the XXI centuries, characterizing the administrative, socio-economic, geographical position of the Kurgan and Shadrinsky districts, the territory of which forms the basis of the modern Kurgan region. The current Charter (Basic Law) of the Kurgan region is also presented.